Jan. 5, 1979 – Oct. 24, 2014
Brendan Andrew Wenberg was born in Durham, NC on January 5, 1979 to Ruth Hamilton and John Wenberg. A happy baby, he said his first words "Da-Da" at age nine months. His brother, Ethan Wenberg, was sixteen months older and delighted at having a new playmate. Jack, their oldest brother, was fourteen at the time. Brendan and Ethan loved spending time and going to the beach with their paternal grandparents in Wilmington, NC, and eating good home cooking from the garden at their Granny Wooters' home in Smithfield, NC. They treasured being out in nature, and visiting the Parkwood community lake near their home.
From a very early age, the two fair-haired brothers drew pictures and cartoons and created art. They were inspired by comic books, fantasy movies and their own rich and vivid imaginations. They dreamed many original characters into being, with laughter in the air. Together they  attended the Emerson Waldorf School in Chapel Hill, NC. In Durham, Brendan attended  Parkwood Elementary, Loew's Grove Middle, and Jordan High School, and graduated from Athens Drive High School, Raleigh, NC in 1997. It has been said that Brendan was the nucleus of his Raleigh friends.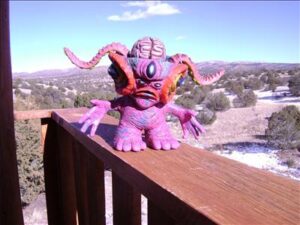 Brendan was always a hard worker, with a great sense of humor. In his first job, he donned the garb of a giant pizza slice for a local chain, and danced and waved in customers. In 2003, Brendan moved to Glenwood Springs, CO to join Ethan and work at the ski slopes of Aspen. Brendan soon became an avid snowboarder. The brothers moved to Denver in 2005 here they were joined for a time by their brother Jack. The brothers embraced the local art scene, and were part of Squid Works, a comic art collective.
In 2004, Brendan began creating original vinyl toys with great passion and dedication. His sculptures were produced at a mass level, and won a "Best in Show" award at the 2005 Vinyl Toy Show in NYC. As a result, Brendan's sculptures were embraced by the Pop Surrealism movement, and he sold many to an international clientele.
In 2009, Brendan moved to Seattle WA to explore the flourishing wearable art market. He set up a studio, and continued to design his original character t-shirts, screen-printing each one by hand. It was a long-held dream and a labor of love that Brendan turned into a successful business. Entitled "Strange Child Ink," the one man company thrived at the local festivals and art fairs, and soon Brendan found many of the locals sporting his designs. "I look everywhere, and people are wearing my t-shirts!" he said of this time. Ethan moved to Seattle to help his brother with his blossoming business. At Hemp Fest, Brendan was commissioned to do a large painting for the Medical Dispensary of Seattle.
a>During this period, Brendan became ill and was treated for a mood disorder. This hampered his work at times, yet he persevered, creating new designs, screen-printing shirts and attending festivals. Ethan helped care for his brother during this particularly difficult time.
Brendan took three wonderful trips while in Seattle. In Hawaii, Brendan became inspired by the sea turtles, and created one of his bestselling designs, "The Rocket Turtle." In Vancouver, BC, along with his mother, he biked and took the ferry ride to Victoria. In Thailand, he enjoyed the monkeys, the Buddhist temples, and riding an elephant. These images also later found their way into his art.
In January 2012, Brendan came to his mother and step-father's home in Magdalena, NM when his illness needed constant management. Dr. Florian Birkmeyer, an integrative psychotherapist, was extremely helpful and caring during this time. By May 2012, Brendan was much improved and he and his girlfriend, Lulu Romero, moved to Santa Fe, NM. He brought his business to the Rail Yard Art Market. He worked as a pedi-cab tour guide around the Santa Fe art and historic district. Brendan loved the job, as it kept him fit and allowed him to joke with customers.
In May 2014, Brendan and Lulu moved to Austin, TX with hopes of tapping into a larger art community for his business. Once again, he established himself, gaining respect among the residents while working the comic conventions, festivals and local art markets. He sold many of his t-shirts to the Museum of the Weird in downtown Austin, where they sold out repeatedly and a strong relationship was formed.
Brendan joined a local screen printing co-op and enjoyed the "weirdness" of the Austin scene by juggling, painting, creating art, dancing, treasuring his pet lizard, enjoying the music scene, kayaking and taking spontaneous trips to nature settings.  Sadly, Brendan was unable to find suitable psychiatric care in Austin and suffered the reoccurrence of his mood disorder.
Journaling throughout his life, Brendan drew a picture the day before he died of a bookcase with a raven, and sign that said "Read." In the background was a house in the sky. On Oct. 24, 2014, Brendan started painting that morning and that afternoon, he took his own life.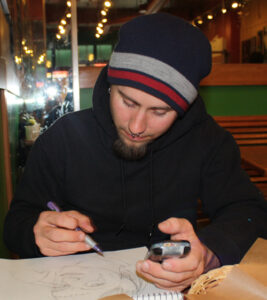 The legacy of Strange Child Ink and Brendan's never-ending passion for life and his boundless creativity inspires us to keep his art alive. Through this celebration of life, we hope to mend the bridge between this life and the realm where Brendan now exists. We believe the spirit of Brendan, whose creative soul brought much joy and laughter to others, will open doors to positive, holistic change in the world among kindred spirits and those facing similar challenges.
The Brendan Wenberg Memorial Fund has been established to protect and display the creative works of Brendan and to support the healing arts that honor his legacy. The next project is the publication of a book that features Brendan's art, sculptures, and philosophy. This project is being edited by Jack Wenberg, Brendan's brother. The Strange Child t-shirts will also be available through on-line purchase.
If there is one thing that can be said about Brendan, it's that he lived life to the fullest. We'll always be sad that Brendan is no longer here, yet we are infinitely grateful for the time he shared, and the many things he came to teach us:
Be bold and follow your heart's desire; listen to your muse and let it guide you; take time to play, read and create every day, nurture and develop your natural talents; fall in love with what you believe in and pursue it vigorously; don't let 'The Man' break your spirit; have a great big sense of humor and an even bigger heart; travel far and wide with passion and laughter; live life to the max while you are here; deeply love your family and have lots of friends; don't be afraid to fight for what you believe in; help others along the way; believe in yourself and set your own path; develop your own individual style, and dream out loud and pursue your vision with wild abandon.
Thanks, Brendan!
As Brendan would say, tilting his head to the left and making a funny face: "Yeee-aahh!"