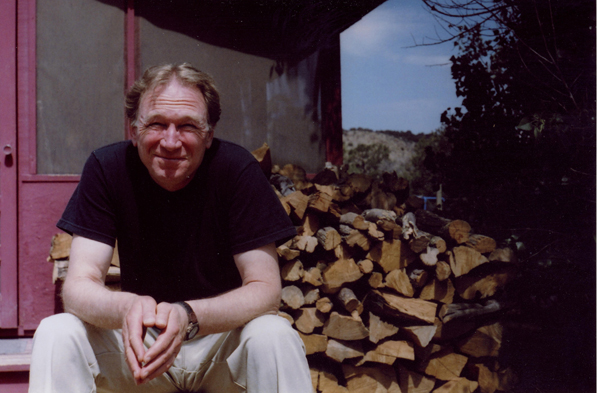 I like my flowers
on a stem which is
planted in dirt
the best & left undisturbed—
Of those the very wildest/
an expression
or speech of
the earth—
Perhaps from respect
or the hope
it perpetuates—
yet that's a
circular argument
& there are times
when I've broken off
branch or stem
if only to show someone
how exquisitely
I felt
about them
The poet Bruce Holsapple lives alone in rural Magdalena, NM but grew up with 3 brothers in the woodsy setting of a boys' camp operated by his parents Donald and Betty Holsapple in Dexter, Maine. He wrote his first poem at age 17. In 1973, Bruce graduated from the University of Maine, and for ten years, he was co-editor of a literary magazine in Portland. He eventually went on to earn a PhD in American Literature at SUNY Buffalo.
Bruce has worked a variety of jobs—warehouse foreman, factory hand, record store clerk, school teacher—in variety of locations—Vermont, New York, Maine, Washington, Texas—before finally ending up in New Mexico where he went to school yet again to become a speech-language pathologist. And for the last twenty years, that has been his steady profession. He remarks that he relocated to New Mexico because he wanted to live somewhere "pretty."
Bruce retired in 2014 and now lives in the desert foothills of the Bear Mountains, in a small house amid hundreds of books; they offer him ready reference for his productive writing life. Since a schoolboy in Maine, Bruce has always been an active outdoors person. Living remotely in the high desert brings Bruce into regular contact with the natural world.
Bruce is the author of 9 books of poetry and recently published a scholarly book with the University of New Mexico Press (2016) on the Modernist poet William Carlos Williams, entitled The Birth of Imagination: William Carlos Williams on Form. This book won the Louis Martz Award from the William Carlos Williams Society in 2018. In the book, Bruce analyzes the development of Williams' poetic theories and the impact of those theories had on the content and form of Williams's poetry. As a testament to his depth and thoroughness, Bruce researched The Birth of Imagination for ten years.
Bruce is most interested in experimental poetry, which he explains as involving several different approaches in the construction of aesthetic meaning. Put more simply, his poems explore ways of involving the reader through unusual uses of structure and content. Regarding his creative work, Bruce adheres to the everyday discipline of working on his writing from 7 AM to 12 noon. During this time he practices suspending what he calls "instrumental thinking," thinking with an explicit purpose or goal, in order to generate other, more creative responses. The daily sessions are dedicated to invoking exploration. His aim is to generate what he calls "interesting thoughts." While in the process of writing Bruce may discover or invent some thought or phrase which captures his imagination in some way.
One of Bruce's main tools is his notebook. Writing in this notebook throughout the day, Bruce is free to enter anything, feelings, thoughts, worries, sketches and confessions. Bruce reviews these entries periodically and types up what he finds of value. He says he usually knows when some piece of writing is "hot." He then pursues that moment to develop further insights, sketching out all related aspects of the writing in order to help develop the poem later.
Bruce does not devote his mornings to a single poem, but reports that he may have at least 20 poems going at one time. Revision of his poetry often yields interesting and surprising results. Some poems may go in an entirely different direction than originally imagined. The poems are not determined or thought out before the actual task of sitting down to write. They can travel in unexpected ways. That's what non-instrumental thinking allows for.
A prolific and published poet, Bruce reports that writing poems has become more difficult with time, rather than easier, due to his becoming more deeply aware of inherent, artistic problems. As far as publishing, Bruce says that the poetry collection rounds itself out and tells him when it is ready to go. Also, he says that his style of writing may evolve beyond what he's typically been doing, signaling him that a particular collection of poems is finished. For individual poems, Bruce does not have a regular submission routine. He prefers to let poems sit for as much five or six years before publishing them. Bruce actually has a book ready for publishing now, entitled Sun, Wind, Rain. This book is about life in Abbe Spring over the last ten years.
As to advice for others, Bruce says, "Poetry is a way of knowing things, it is a way of being in the world, but you have to be driven in order for it to have an impact on your life." While he doesn't devote time to succeeding as a popular poet, he does care about people reading his poetry and the impact it has on them. He loves to read his work to others and has done readings throughout New Mexico. The best way to contact Bruce is by the mail. His address is P.O. Box 594, Magdalena, NM 87825. You may also visit the charming village of Magdalena and around 3 pm, Bruce is often seen coming out of the Magdalena post office with an armful of book packages.
Perfect Pitch
Walking back down
thru the tenements
to the job, this afternoon
I pass by 2 boys
tossing a baseball
back & forth
The first one yells
"He's going for 3rd—"
His snot-nosed teammate
winds & pegs the ball
to him
just in time—
Holding the score
no hits
no errors
Because I love &
my innocence is unkillable
I've told my boss I've got
pains in the chest
& taken the day off
declared it my
holiday—
My friends laughed
like I was joking
but it's genuine—
lyricist that
I am, to honor
the one day—
St. Valentine's
when poetry's
the appropriate way
to express
yourself
Prodigy
fat-cheeked
dressed stiff
for school &
awaiting the bus,
she turned &
whacked, then whacked
for emphasis
the fat gray snout
of a puppy
who'd followed her
out of the house
who now sits
back in the snow
& with a slower wag
quizzical
looks up
Semblance
A gray squirrel
in the road
& a car approaching
hesitates
decides right
tries to curve beyond
the car's trajectory
almost hit/
to the driveway
where it freezes big-eyed
twitchy neck
& tail
begins a jerky
search of
concrete slabs
& crevices
Observations
Watch a cat
in porch light
scratch the door
look about
a moth
distract it
*
One legged crow
in a foggy parking lot
early Saturday
quiet
reaches for
a crust, beak
down
stretching out its wings
for ballast—
*
A big dog's track
in mud where
it jumped almost across
the ditch then slipped
slurred
back
Expenditure
A middle-aged
man in casual T-shirt
at the grocery store
changes his mind,
leaves hamburger
on the cereal shelf
hurried, perhaps,
thinking to check
out, dance off
yet pays, surely,
setting those priorities—
"life is about art"
Homage to Williams
Because life's not a given
or merely that, imagine you're a bird
flying to work—
Such a big world to be a sparrow in!
Up over the rooftops
cheep cheep
past Peabody & Boucher's Funeral Services
the grass clipped & tarred parking lot
swept terribly clean—
Not a crumb left over
yet on a flat section
of the roof, fenced off
from the public
a picnic table & red-checkered
table cloth!
Witness
The old man in cotton bathrobe
limping across the street
(after his recent operation)
excitedly explains the wooden cart
I'd wheeled out from the garage
I'm cleaning, he hadn't seen
so long, 28 years? it surprised him
A bit of his history, he says
built by a Mr. Matthews
We used it to carry out
storm windows, back
when you couldn't lug
more than one at a time—
All of us joined in
It was a neighborhood then—
you should have seen the place
all fixed up—an Italian family
on the corner (pointing)
used to have roses blooming
this high, every morning, fresh!
where all that grass is
Empty Purse
Two friends, long ago
posited 3 priorities
food, rent & clothes
from which a world
in hostile situations
(like youth) might flow,
& although my friends
passed on, convinced
of a higher calling
& I'd forgot that lecture/
I got lectured a lot
back then, & spent years
setting those priorities
like by getting rent paid
hair cut, & to work on time
So that properly aged
by the confessed intoxication
of my youth, I'd posit
one further, the lack of which
I think was their demise
(tho it's of a different kind)
namely, to stand pat,
stay empty, able to stick
both hands in your jacket pockets
& go whistling downtown
money or not.
Portent
A severe thunderstorm warning
flashes on TV, & for a fact
the clouds blacken, trees
flatten & sway—
wind cuts back & forth
rain spatters the screens
It thickens, cars splash thru
silver sheets of it
a loud crack, KA BOOM
& the sky splits open
claps back
the perfect opportunity—
Ten kids are in the street
in shirtsleeves, yelling,
jumping about
pretending disaster
& they are weathering it